Resources on Oil Spills, Response, and Restoration: A Selected Bibliography
Back to the Deepwater Horizon Support Page.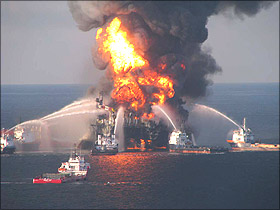 This Bibliography has been prepared as an aid for those seeking information concerning the Deepwater Horizon oil spill disaster in the Gulf of Mexico and information on previous spills and associated remedial actions. Various media products (web, video, printed and online documents) have been selected from resources available via the online NOAA Library and Information Network Catalog (NOAALINC). Many of the resources included have been produced by NOAA offices and programs. The content of the Bibliography includes information sources concerned both with the harmful effects of oil and chemical spills to marine habitats and their associated living marine resources and with the cultural and economic impacts caused by such spills.
---
The bibliography in the link below attempts to list all of the published research and expert commentary that has resulted from the Deepwater Horizon oil spill. It includes peer-reviewed journal articles and book chapters, technical reports released by scientific agencies and research institutions, and editorials published in peer-reviewed journals.
---
The NOAA Institutional Repository (IR) includes a collection of Deepwater Horizon Materials. This searchable, online collection includes information from NCEI, libraries, and websites, as well as from federal and state partners.
Deepwater Horizon Resources