Figure 1. Sydney Levitus is presented with an award by previous NOAA Administrator, Dr. Jane Lubchenco. Also pictured is NESDIS CFO/CAO Michael Abreu.
NODC Congratulates Sydney Levitus on His 39 Years of Service to NOAA
Award-winning oceanographer, researcher and NODC supervisor, Sydney Levitus will retire from NOAA this June (2013). Syd joined the U.S. NODC in 1989 where he spent his career as a pioneer of ocean climate science and ocean warming studies. He made significant contributions to the scientific and ocean data management communities, and promoted the importance of ocean climatologies long before many other climate scientists.
Mr. Levitus earned his B.S. and M.S. degrees from New York University. Following 18 months at the Lamont-Doherty Earth Observatory at Columbia University, Syd joined NOAA in 1974 as an oceanographer at the Geophysical Fluid Dynamics Laboratory in Princeton, New Jersey. While at GFDL, Syd published "Climatological Atlas of the World Ocean" in 1982, based on the ocean data archived at the NODC/ World Data Center (WDC). This work has been cited more than 2800 times in the refereed scientific literature, indicating its impact and utility to the scientific community. He joined the National Oceanographic Data Center (NODC) as Chief, Product Development Branch, in 1989. "I came to NODC because it was an opportunity to have my own research group," states Mr. Levitus.
Figure 2. Global Ocean Heat content 1955-present, 0-700m
Syd also increased public understanding of the role of the oceans in climate. He was one of the first to recognize the importance and benefits of developing quality-controlled historical oceanographic databases with all data in a common digital format, along with gridded, objectively analyzed climatological fields of measured ocean variables. These research-quality databases, known as "World Ocean Database" and "World Ocean Atlas", have enabled systematic studies of ocean variability that were not previously possible. These products have been made available internationally without restriction, a characteristic of Syd's work throughout his career.
The "World Ocean Atlas" series are used so frequently that they have become known generically as the "Levitus Climatology". He formed the NODC Ocean Climate Laboratory (OCL) and became director of the International Council for Science (ICSU) World Data Center for Oceanography (WDC), Silver Spring. In 1993, the Intergovernmental Oceanographic Commission asked Syd to lead the newly initiated "Global Oceanographic Data Archaeology and Rescue" (GODAR) project, to locate and "rescue" historical ocean profile data that were at risk of being lost due to media decay. With his OCL colleagues, and unprecedented cooperation from the international ocean scientific and data management communities, this project resulted in a significant increase (millions of profiles) in the number of station data and instrument casts for the pre-1991 period (Levitus, 2012)1. Syd has been the senior author or co-author of many peer reviewed scientific publications and book chapters, senior author of several NOAA professional papers and atlases, and editor of the "World Ocean Database" and "World Ocean Atlas" series of publications.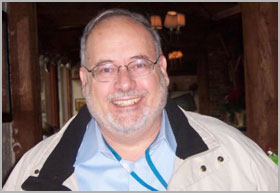 Figure 3. Sydney Levitus
Figure 4. Syd receives award from NODC Director, Dr. Margarita Gregg, for his service to the U.S. government.
Last year, Syd received the NOAA Distinguished Career Award, one of the highest honors that can be granted by the Under Secretary for Oceans and Atmosphere. Previously, he was elected as a 2010 Fellow by the American Association for the Advancement of Science (AAAS). Mr. Levitus was one of only nine in the Atmospheric and Hydrospheric Sciences section. He was honored for his "distinguished contributions to the field of ocean sciences, particularly in the area of data archaeology and the analysis of the impacts of climate change on the upper ocean."
Syd is a frequent speaker at scientific meetings and conferences, serves on international committees and panels, and has published extensively. In 2000, Syd and his colleagues published the first scientific analysis documenting that the world ocean had warmed since the mid-1950s in an amount consistent with the warming expected, due to the increase of greenhouse gases in Earth's atmosphere. This paper was of such significance that it drew a considerable amount of media attention. Subsequent papers have also been frequently cited and have initiated much scientific interest in the Earth-system's heat balance, of which the ocean is by far the largest component.
Needless to say, Syd has been a mentor for many of his colleagues, and will be greatly missed.
Congratulations, Syd, and thank you for your dedication and scientific accomplishments throughout your thirty nine years at NOAA!
For more information on Syd's career, see his Curriculum Vitae Learn more about Sydney's contributions from this Q&A Profile.
---
Levitus, S., 2012: The UNESCO/IOC/IODE "Global Oceanographic Data Archaeology and Rescue" (GODAR) and "World Ocean Database" projects. Data Sci. J., 11, 46-71, view online publication