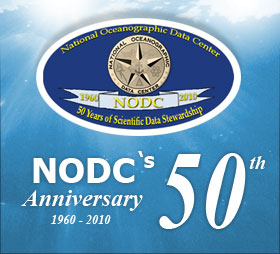 NODC's 50th Anniversary
NOAA's National Oceanographic Data Center Celebrates 50 Years of Service to the Ocean Community
NOAA's National Oceanographic Data Center (NODC) opened its doors on November 1, 1960, with 29 employees ready to take on the challenge of compiling, sorting, and organizing the disparate collections of oceanographic data into a single system. This was a daunting task, considering that the U.S. Navy had already determined that data were coming in at such a rate that it was nearly impossible to keep up. The work soon began with a collection of unclassified data that consisted of approximately 2,000,000 machine-punched cards containing about 100,000 stations of oceanographic data. This data consisted of about 3 million observations of temperatures, waves, currents, and depths. In comparison to today's data collections, NODC's archive currently contains over 44 terabytes of data packaged into more than 86,000 archived original datasets and hundreds of different ocean data types.
In January of 1961, NODC was formally dedicated by the Honorable James H. Wakelin, Jr., the Assistant Secretary of the Navy for Research and Development. Three hundred guests were present, including members of Congress and representatives of supporting agencies. Dr. Woodrow C. Jacobs was appointed the first NODC Director.
In 1970, NODC was formally transferred from the U.S. Navy Hydrographic Office to the newly formed National Oceanic and Atmospheric Administration (NOAA), under the Department of Commerce. As the science of oceanography grew and developed over the decades, so did the Data Center. In 2000, the National Coastal Data Development Center was incorporated into NODC expanding its focus from global oceans to include coastal ocean areas. NODC now maintains the world's largest collection of oceanographic data.
The mission of NODC is to provide scientific stewardship of marine data and information. Archived data includes physical, biological, and chemical measurements derived from in situ oceanographic observations and satellite remote sensing, and is also used as a leading source to monitor global environmental changes, such as global ocean heat content.
Ways in which NODC has impacted the global Oceanographic Community:
NODC preserves and provides access to scientific quality ocean data and information for current and future generations.
NODC is recognized globally as an authoritative long term archive for ocean data and information.
NODC has provided oceanographic researchers around the world a place to preserve valuable ocean data for the benefit of future generations.
NODC's products are used as a leading source to monitor global ocean climate changes.
NODC contains the world's largest collection of publicly available oceanographic data.
NODC Timeline
1959

Working Group on Data Recording and Standardization of the Coordinating Committee on Oceanography recommends that a NODC be established at the U.S. Navy Hydrographic Office.

1960

On November 1, NODC begins operating in the U.S. Navy Yard. NODC is officially established under the administration of the U.S. Navy Hydrographic Office.

1961

NODC is formally dedicated; Dr. Woodrow C. Jacobs becomes the first NODC Director.

1962

The World Data Center A for Oceanography becomes a part of NODC.

1963

NODC is elevated from Division to Department within the U.S. Naval Oceanographic Office.

1967

Establishment of Liasion Officers network at key ocean research and academic institutions.

1968

First data on magnetic tape arrives, begins transition from paper media.

1970

NODC is transferred to the Environmental Data Services, a line office under the newly formed National Oceanic and Atmospheric Administration (NOAA).

1982

The National Environmental Satellite, Data and Information Service is organized, the NOAA Line Office of which NODC joined.

1989

The NOAA Library is added to NODC.

1990

NODC hosts an international workshop on "Data Archaeology", formalizing the need to search for irreplaceab le historical data sets. Email is available on all of NODC's personal computers.

1993

The Ocean Climate Laboratory is officially created as a new Division.

1994

NODC provides information regarding data holdings, products and services the internet.

1996

NODC moves from Washingtonn, DC to its present location in Silver Spring, Maryland.

2000

NODC scientists discover that he upper 300m of the world ocean has warmed in the last 50 years.
The National Coastal Data Development Center is created as a new division.

2001

NODC starts managing the Coral Reef Information System (CoRIS) for NOAA's Coral Reef Conservation Program.

2002

NODC expands to provide scientific stewardship of satellite-derived oceanograophic datasets and develop consistently-processed satellite-based climate data records

2003

NODC's present-day Archive Management System is developed, capable of archiving any type of oceanographic data in the world.

2006

The first automated data ingest stream made it into the archive, with no human intervention.

2010

NODC provides key data management and analysis support for the Deepwater Horizon oil spill incident..