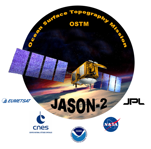 Latest Updates
Introduction
This site contains an overview of the NOAA services being provided by the National Oceanographic Data Center (NODC) for the Jason-2 satellite altimetry mission (note: Jason-2 is also known as the Ocean Surface Topography Mission or OSTM) and for Jason-3, which is scheduled for launch in April, 2014.
Background
The Jason-2 satellite launched 20 June 2008 and is the latest in a series of ocean altimeter missions designed to observe ocean circulation, sea level rise, and wave heights. Earlier altimeter missions include
Geosat
and
Geosat Follow-On
satellites, which flew in 1985-1989 and 1998-2008, respectively, and the
TOPEX/Poseidon
(1992-2005) and
Jason-1
(2001-present) missions, which were launched into the same orbit now occupied by Jason-2. Jason-2 is currently flying in what is known as the "reference" orbit. Jason-1 continues to operate today in a similar "interleaved" orbit, offset by approximately 5 days and 0.7 degrees longitude at the equator from Jason-2.
Level-2 X-GDR Data Access
Quality Monitoring of the Science Data
For deriving long-term quality measurements on Jason satellite data, we have developed a climate-oriented quality monitoring system. This system uses the Rich Inventory concept developed at NGDC, providing a searchable database for tracking and discovering data quality, metadata, and data set attributes. A near real time data quality check comprising of 8 statistics calculated on 23 parameters is performed as each Level-2 data file is ingested into NODC's archives.
Frequently Asked Questions (FAQ)
What is the difference between the OGDR, IGDR and GDR?

A. The Operational Geophysical Data Record (OGDR) is produced within 1-2 hours of the satellite overflight. It has the lowest quality data and the most missing data. However, it is useful for time-critical applications. The Interim GDR is produced within 1-2 days of overflight. The orbital quality is far better. The science-quality "final" GDR is produced with a 60-day time lag. Note: A new, experimental OGDR is being produced at JPL within 7-9 hours of overflight. The quality of orbital information is equivalent to that of the IGDR. It is listed below.